It's time for summer sweets to switch to fall flavors! Students and teachers are heading back into the classroom.  Here's what's new at Rising Tide to help you prepare for the new season. 
Charity of the Month – NOSH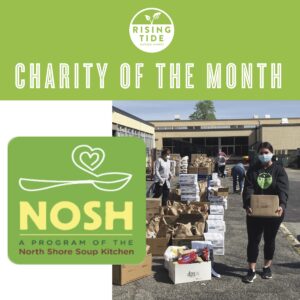 NOSH's goal is to safely deliver meals to families in need, due to the impact of COVID-19. A program of the North Shore Soup Kitchen, NOSH delivers emergency meal kits to over 500 families a week. After a recent fire destroyed NOSH's headquarters, we are looking to our amazing community to help us support NOSH as our Charity of the Month for September. In addition, we will ask our customers to Round Up each purchase to provide the additional support NOSH will need in their time of rebuilding.
RT Deli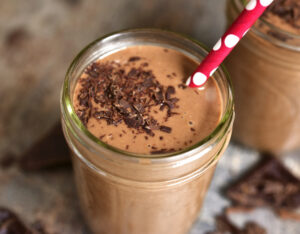 Smoothie of the Month – Back to Cool
This protein-packed cool combo is high in fiber and full of antioxidants. The perfect mix of heart healthy ingredients to help get you into the back to school groove. 🚌
Made with Organic ingredients:
Strawberries
Bananas
Cacao nibs
Peanut butter
Oat milk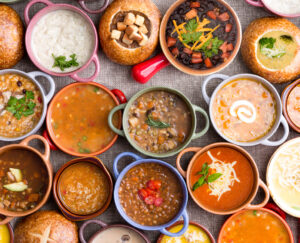 Soup's On
Our hot soups are back! Stop by the deli to see what hearty options we have daily, or check our Instagram for what's cooking!
A few of our favorites include Texas Style Red Lentil, Black Bean, Split Pea, Chicken Quinoa….we could go on!
Grocery Essentials
Snack Attack
Get ready for after-school snack time with these options on sale now at Rising Tide.
Madegood Crispy Squares and Granola Minis Sale 2/$6
The Good Crisp Potato Crisps Sale 2/$6
Unreal Assorted Chocolate Candies Sale $4.99 
RW Garcia Corn Chips Sale 2/$6 
Pur Chewing Gum Pouches Sale 2/$6 
Produce (What's in Season?)
Stone fruits including Peaches and Nectarines
Grapes
Melons
Apples (end of month)
Recipes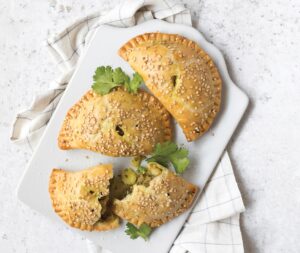 Samosa Pasty
When you're serving potatoes, you can never go wrong. Bring them to your table in a whole new way with this Samosa Pasty recipe! This idea fuses the hand pie and the samosa into one delicious bundle of joy. The tang of lemon juice, the heat of a jalapeño, and the rich flavor of garam masala all soak into that base potato filling, forming a symphony of flavor that's sure to please.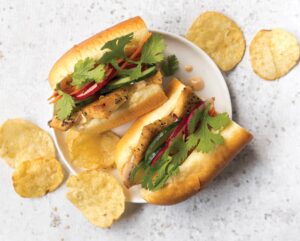 Tofu Banh Mi
Try this veganized take on a traditional Vietnamese banh mi by subbing out the meat for marinated tofu. Load up the sandwich with quick pickled veggies that add a satisfying crunch and a zip to the toppings! This recipe would make a great option for your meal prep repertoire or comes together fast for easy, spur of the moment fare. There's nothing like sinking your teeth into deliciously-packed, toasty bread and coming away with that perfect banh mi bite!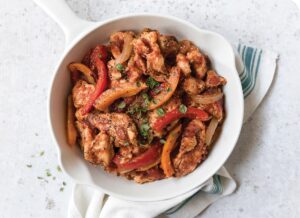 Turkey and Pepper Skillet
One-pot recipes for the win! Switch up your typical protein and try this dish where boneless, skinless turkey is the star. This bird is not just for Thanksgiving time! Solidify this lean meat as a year-long staple in your kitchen by pulling out your cast-iron and giving this recipe a whirl. Everything cooks in one dish, so not only will you love your creation, you'll relish the easy clean-up! This would be lovely served with polenta or lean into Thanksgiving reimagined by pairing with your favorite potato dish.
Other Simple September Recipes:
Cheddar and Garlic Mashed Potatoes
This recipe from Organic Valley will give you the golden ratio of some of the homiest ingredients we have in our kitchens to achieve the ultimate mashed potato. A garlic lover's dream!
Ginger Lemon Moscow Mule Mocktail
Zest it up! Fancify your kombucha fix by transforming it into a classy mocktail from Health Ade.
Local Delivery Now Available!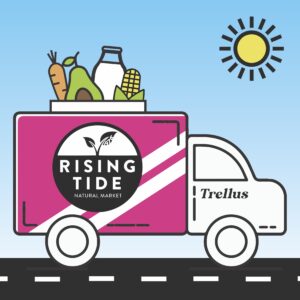 We're happy to provide our customers with the most convenient and flexible shopping experience through our online shopping and curbside pickup option. But now we are even more excited to announce that Rising Tide has partnered with Trellus to bring you same-day local delivery! Read more about how this works here.