Charity of the Month – All Our Energy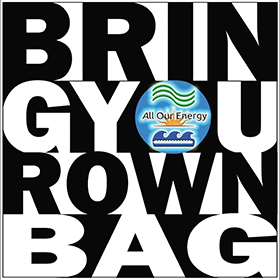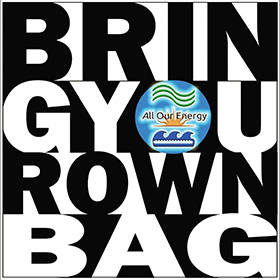 With a focus on advocacy, education, and empowering people to support renewable energy development and act on environmental protection, All Our Energy is near and dear to our hearts. They educate the public and empower local volunteers to raise awareness, advocate for change, and take action in local beach, waterway, and open space clean-ups.
After All Our Energy's successes with the Long Beach and Sea Cliff reusable bag initiatives, their "Zero Single Use" pollution prevention and "Displace Dirty Fossil Fuels" climate protection campaigns are ongoing, to involve the public in transforming society for a better environmental future.
Each month our BYOB program is linked to a local charity.  To raise the funds to donate, we charge $.10 for each paper bag we give out and donate $.10 for each reusable bag of yours we use. You may also donate through our online shopping tool. 
Spring Has Sprung!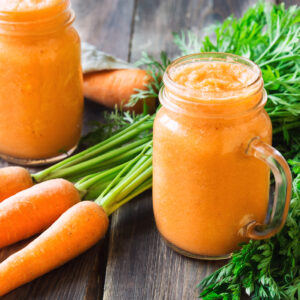 Smoothie of the Month – Spring Glow
Get glowing with this nutritious and delicious smoothie. With ingredients that are vitamin-rich, anti-inflammatory, skin-boosting and chock full of omega-3 fatty acids – this smoothie will cure your spring fever! Made with 100% organic ingredients: Carrot, Ginger, Mango, Strawberry and Flax Meal.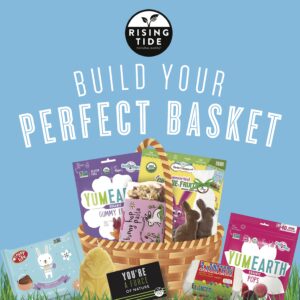 Easter
From traditional chocolate bunnies to unique candles and great gift cards, you can build the perfect basket with these goodies available at Rising Tide. And even better – you can do so online!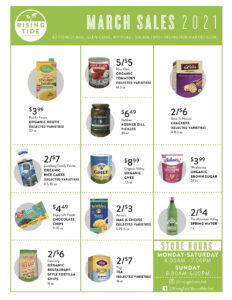 Sales Flyers
Check out our monthly sales and specials on all of our items, including dairy, grocery, supplements, seasonal items…all at great prices! And now our weekly produce sales have extended to include an array of fresh items including meat and dairy! Rising Tide will offer great prices each week on the highest quality meat from D'Artagnan. For more than 35 years, D'Artagnan has focused on free-range, natural production and sustainable, humane farming practices.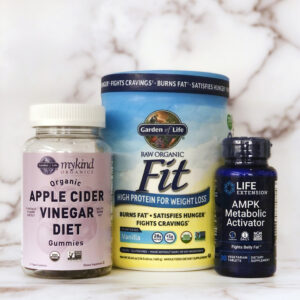 Supplements
Our experts have hand-picked the best products to support your body in the best way. Whether you're fighting allergies during peak season, or thinking ahead to beach days with a weight loss plan, these supplements are here to help.
Recipes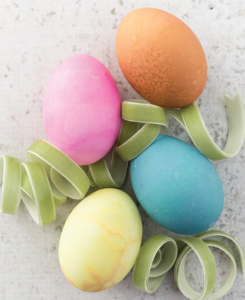 Natural Dyed Eggs 
Jump into spring with a seasonal project that's great for the whole family! Marvel over the way boiled red cabbage turns an egg blue and yellow onion skins make a vibrant orange. It's science and creativity all in one! The longer the eggs sit in their solutions, the more pronounced their color becomes. Try drawing on the eggs with crayons to create dye-free spots or dipping only half the egg. Who can make the funkiest egg of the dozen?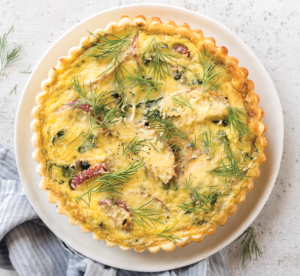 Potato and Chard Quiche
Ah, quiche! The perfect mix of breakfast and lunch with a savory egg filling and veggie mix-ins. This recipe is a great bridge to spring with early season leeks and chard, but the potatoes will keep you satisfied and full. Make this ahead of time to enjoy hearty breakfasts all week long or serve with a side salad for a quick lunch. No matter the time of day, this quiche will satisfy. Try substituting your favorite cooking green or adding different herbs to keep things fresh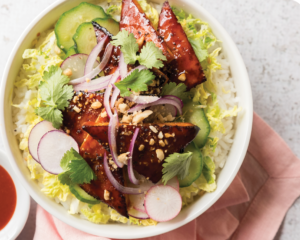 Gochujang Glazed Tofu Bowl 
This dish features all the hits: it comes together fast, features a knockout glaze, and packs a variety of nutrients in one bowl! The key component here is the gochujang (red chili paste) glazed tofu baked to perfection, along with fresh veggies, like radishes and cukes to add a fresh crunch. Lime, cilantro and peanuts finish it all off with a bright zip you'll love! If you've grown bored of rice, why not try it over rice noodles or your favorite grain? It's also great with tempeh, instead of tofu. Customize it to suit your tastes, but rest assured if you're using this recipe as a base, it will be a winner. 
Online Shopping and Digital Gift Cards are HERE!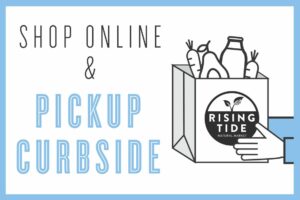 Online Shopping 
In an effort to provide our customers with the most convenient and flexible shopping experience, we are thrilled to announce that Rising Tide Market is now offering online shopping! Read more here.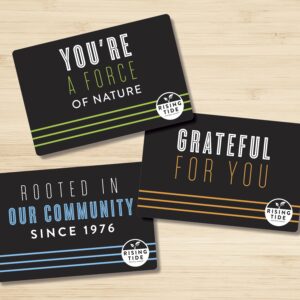 Gift Cards 
Give the gift of health, without leaving the comfort of your home! New eGiftCards are available! The perfect gift for anyone, purchase through our online shopping tool.