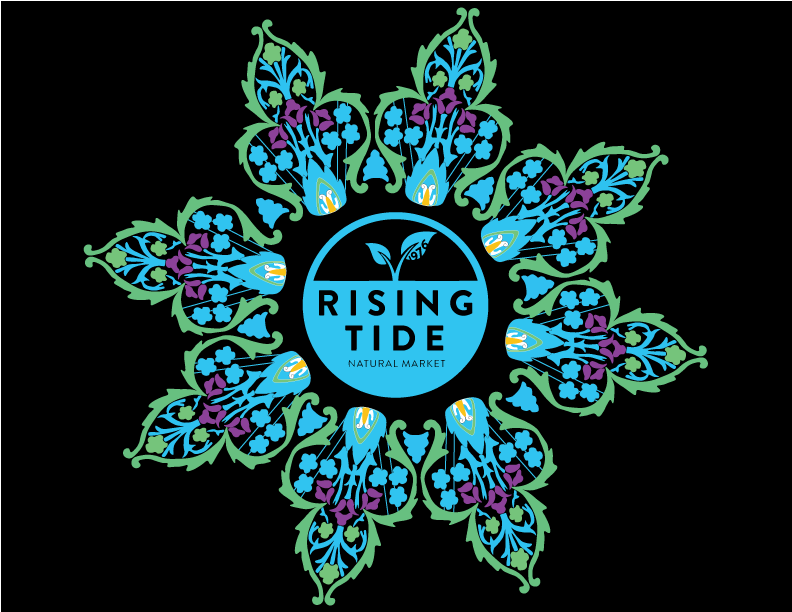 Become a Grateful Card Member Today…Enjoy Customer Rewards!
The Rising Tide Grateful Card has entered its second phase with much greater functionality and customized rewards for our amazing customers (for whom we are so very grateful!)
Grateful Card Features:
"GRATEFUL FOR YOU" COUPONS: As you accumulate points in your Grateful Card account, you will periodically receive hassle-free eCoupons through your email. Why hassle-free? You won't ever need to present the coupon or have it scanned from your phone; when you qualify for a coupon it will automatically appear in our system and we'll tell you about it at check out after your Grateful Card is scanned (it's important that you scan your card EVERY TIME, so every point you earn finds its way into your account). The more you spend, the more valuable your coupons will be. It's that simple.
Birthday Coupon: Check in with our Cashiers to be sure we have your birthdate in our system
Senior Discount: 5% off entire purchase at every visit
Supplement Discount: 20% off Rising Tide Brand Supplements at every visit
FREE Reusable Bag for new Grateful Card sign-ups
If you have any questions about the program, feel free to ask one of our Cashiers or ask to speak with a Manager.
We can't wait to send you your Grateful Card rewards! You deserve it!
The Rising Tide Grateful Card: The Origin Story
We are thrilled to bring our customers the The Grateful Card, and to provide our customers with exclusive monthly discounts on many of our best-selling products.
We call it The Grateful Card for 3 reasons.
In 1976, Jerry Farrell founded a store named for a Grateful Dead tune, Uncle John's Band ("We've got some things to talk about, here beside the Rising Tide…").
By naming our program The Grateful Card, we'd like to think we're giving our customers a subliminal nudge to be more grateful, too! Grateful for your heath, your family, your community and this beautiful planet.
We are so grateful for YOU, our loyal customers who have been by our side all these many years. You are the reason behind everything we do. We look forward to continuing our partnership in healthy, sustainable, joyful living for many years to come.