Summer is here! Get ready for your backyard BBQs and beach weekends with new deli items, recipes, picnic goodies and much more!
The Club serves nearly 600 youth (ages 6 -18) annually in the Glen Cove community with after-school programs in education, sports, recreation, dance, technology and art—all designed to enrich and enhance learning and build self-esteem. In addition, the Club provides a fun, affordable summer program with creative and imaginative activities designed to keep kids interested in learning while having fun with their friends.
Glen Cove Boys & Girls Club's mission: To provide a safe and caring environment that will inspire and enable all young people to realize their full potential as productive and responsible citizens
RT Deli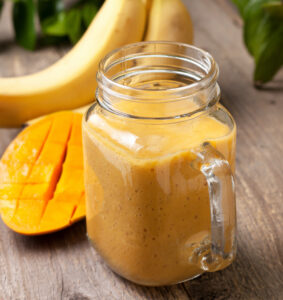 Smoothie of the Month
Our nourishing Tropical Cooler is full of electrolytes and bursting with fruity flavor – take a sip and be transported to an island in the sun with this rich, satisfying smoothie. Ingredients: Orange Juice, Pineapple-Coconut Juice, Mango, Strawberry and Banana.
Summer is HERE!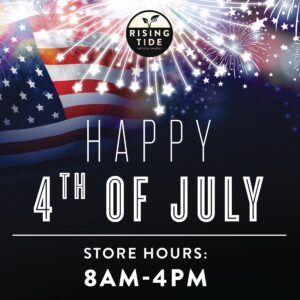 4th of July
Come grab any last minute meat and veggies for grilling, healthy treats for the kids (and you) and perhaps some bottled juices and wellness shots for after the holiday.  The store will be open on Sunday, July 4th from 8am to 4pm.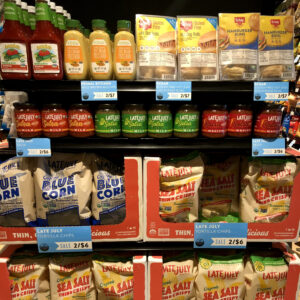 Get Grillin'
Now that it's not 100° outside, it's time to fire up that grill and make up for some lost time! Grab your BBQ Weekend Essentials now at Rising Tide. Some of our featured sale products include:
Schar Gluten Free Hot Dog and Burger Buns 2/$7

Sir Kensington Ketchup $3.99

Primal Kitchen Spicy Brown Mustard 2/$7

Late July Restaurant Style Tortilla Chips 2/$6   

Late July Salsas 2/$6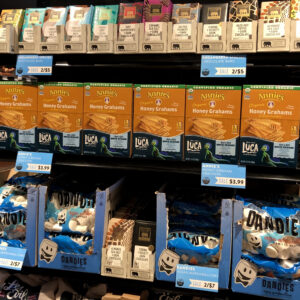 Gather 'round the Campfire
These nighttime campfire treats are fun to make, feature all non-perishable ingredients, and boast a crunchy, gooey flavor combo that's next to none. Plus, s'mores are a seasonal staple; if you're eating one, chances are it's just one part of a great summer night. Grab everything you need for a perfect s'more here at the store!
Recipes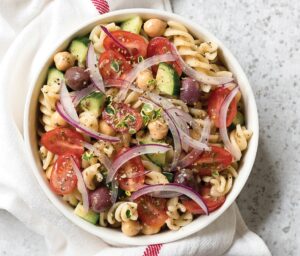 Vibrant Summer Pasta Salad
We love a cool pasta salad number in the summer! Serve this simple dish as a side for a zingy contribution to a pot luck or prepare it as a main course, adding grilled chicken or another protein to elevate it.This pasta salad combines fresh ingredients with elements you likely already have in the cupboard, like chickpeas and olives. It's the perfect recipe to have on hand if you're looking for a make-ahead recipe to bring along to a backyard barbecue.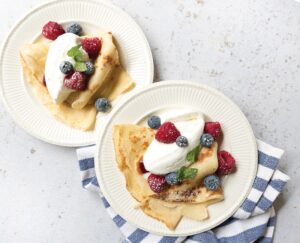 Berries and Cream Crêpes
Delicate and light, crêpes make a perfect summertime sweet! Incorporate these into your Bastille Day celebration or serve them for brunch. Spread warm jam on one side and fold them into bundles of goodness before topping with whipped cream and fresh, local berries. These beauties are best enjoyed hot off the griddle and with good company!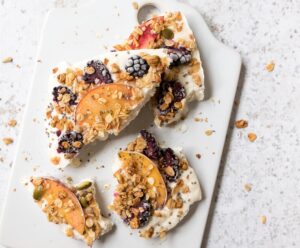 Frozen Fruit Yogurt Bark
Frozen Fruit Yogurt Bark?! You heard it! This refreshing snack will have you sneaking back to your freezer for more. Mix up your favorite Greek yogurt, vanilla, honey, and a pinch of salt and spread evenly on a baking sheet before adding on your choice of toppings. This is an easy way to incorporate a little extra fruit or omega 3s (Chia seeds! Hemp hearts!) into your daily meals. The Greek yogurt acts as a protein-packed vehicle for the tasty morsels you sprinkle over top. If you like, add some chocolate bits and call this dessert. Have fun with this creative recipe; you can't go wrong!
More Summer Recipes:
Ice Cream Sandwich Cake
Enjoy your favorite summer treat in a fun new format with this recipe from Alden's!
Peanut Butter Cup S'mores
Next time you're gathered around the campfire, roast some Dandies and try this twist on a classic s'more!
Lemon-Thyme Crepe Cake
Packed with refreshing citrus flavor, this crêpe cake makes a light and elegant dessert.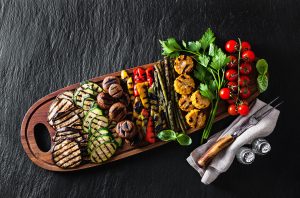 Produce – What's in Season?
Corn 

 

Tomatoes

 

Peppers

 

Zucchini

 

Watermelon

Strawberry

Blueberry

 
Local Delivery Now Available!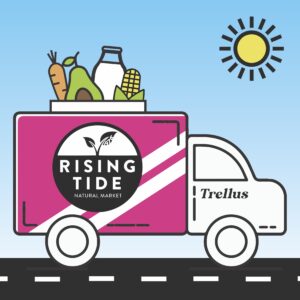 We're happy to provide our customers with the most convenient and flexible shopping experience through our online shopping and curbside pickup option. But now we are even more excited to announce that Rising Tide has partnered with Trellus to bring you same-day local delivery! Read more about how this works here.