Nuts, fruits & coffees at great prices
We recently eliminated our Bulk unit to give our 100% Organic Produce department room to breathe! However, we will still carry all of your favorite bulk nuts, dried fruits, etc., prepackaged and located on the shelves next to the nut butter machines. And of course, we're as excited as ever about our Certified Organic, Fair Trade Equal Exchange bulk coffees, now at a new Everyday Low Price.
NOTE: If you have a special bulk need, we are happy to help you find a solution. Please ask a manager for assistance. 
Organic Nut Butters: Packaged organic nut butters are everyone's Bulk favorite. We've got Hazelnut Butter and Cashew Butter, in addition to the new (and highly addictive) Salted Mixed Nut Butter, and of course, our freshly ground organic Peanut Butter and Roasted Almond Butter machines. Try them all; these protein-rich butters will make you swoon.
Dried Organic Mango Slices: Packed with Vitamin C, these chewy, tangy/sweet marvels are wildly popular (we knew our customers had great taste!).
Organic Specialty Nuts, Nut Mixes and more: We've packaged all of your favorite seasoned organic cashews including Cajun, Curry, Salt & Pepper, and coming soon: Everything But the Bagel cashews. Our beloved nut mixes include the high-protein, disease-fighting Organic Antioxidant Trail Mix, featuring a vegan superfood blend of seeds, nuts and fruits; and the simple and sweet organic Triple C mix, made from organic cashews, dried cranberries, and dark chocolate chips . We've also got everyone's favorite granolas, including French Vanilla Almond (an RT bulk customer favorite forever!),  the organic, grain-free/paleo Coconola, and Save the Rainforest, featuring Brazil nuts, cashews and coconut.
According to a 2017 study published in the Journal of the American College of Cardiology, those who regularly eat nuts, including peanuts, walnuts and tree nuts, have a lower risk of developing cardiovascular disease or coronary heart disease compared to people who never or almost never eat nuts. Other studies report numerous benefits for nut eaters compared to non-nut eaters, including decreased body mass index and waist circumference, lower systolic blood pressure, and lower weight. Raw nuts & seeds available in Bulk at Rising Tide include:
Organic Raw Cashews
Organic Raw Walnuts
Organic Raw Almonds
Organic Raw Pumpkin Seeds

**Now at a NEW EVERYDAY LOW PRICE**
French Roast Decaf $13.99/lb * All other roasts $9.99/lb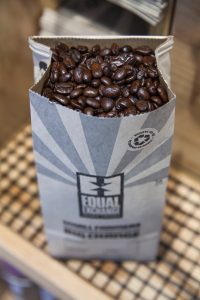 As coffee zealots, we're delighted to carry Certified Organic, Fair Trade Equal Exchange coffees in our Rising Tide Bulk Section.
At Equal Exchange, one of the largest worker-owned cooperative in the nation, longstanding relationships with coffee co-ops allow them to source the absolute best beans from each harvest. Then their talented team of roasters develops the beans to their full flavor potential.
The result? Whole bean coffees that span the spectrum, with the ideal brew for every coffee lover:
Espresso: Bright acidity with outstanding, balanced flavor and notes of mixed berries, apple and plum, and hints of butter
Love Buzz: A dark, smoky favorite with sweet layers of chocolate brownie, caramel corn, malt and toffee.
Mexican Vienna Roast: Creamy and mellow with layers of smoky sweetness punctuated by dark chocolate and orange flavors.
French Roast: A darker roast with low acidity and a dense mouthfeel, like chocolate fudge. Expect notes of cherry tobacco, smoke, and dark chocolate, with a quick finish.
French Roast Decaf: A dark decaf blend that's bold yet balanced, with creamy malted chocolate and a bittersweet finish.
We brew fresh, delicious Equal Exchange coffee every day at the RT Deli. Don't forget your reusable coffee cup!