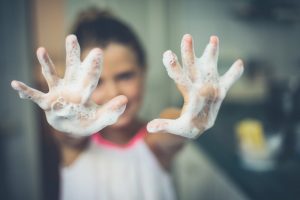 At Rising Tide, we're ever on the lookout for the best products in every category; those that will bring joy and health to your lives, while doing no harm to the planet. This month we're excited to introduce you to three clean, new additions to our soap lineup. Sudsy, safe and sustainable, each has it's own unique spin.
1. Kirk's Odor Neutralizing Hydrating Hand Wash. American-made and family owned since 1839, Kirk's soaps are super clean, made with a coconut oil base and scented with just essential oils. The best part: if you are sensitive to scents, there is a wonderful fragrance-free option.
2. Another old-timer, Grandpa Bar Soap originated in 1878 and has been family owned and operated since 1936. The Charcoal soap—made from steam-activated charcoal and organic hemp and mint oils—works to draw out the dirt and toxins that clog congested pores, and restores clarity to oily and combination skin. The Epsom Salt soap teams the detoxifying power of epsom salt with odor neutralizing baking soda to deep clean the grimiest of grimes. All Grandpa's products are guaranteed free of phthalates, sulfates, EDTA, artificial fragrances or colorants, and animal by-products.
3. Dr. Bronner's 4-in-1 Sugar Pump Soaps. Looking for moisture? Look no further than Dr. Bronner's Organic pump soaps (Dr. Bronner's has long been one of our favorite brands, due to its uber clean products and commitment to the environment). Fair trade, organic sugar gives these soaps a rich caramel color and sweet scent, and along with white grape juice, helps keep skin nourished, hydrated and smooth,  Organic coconut, olive and hemp oils blend for a creamy castile lather. And since this is a 4-in-1 product, you can use the sugar pump soaps to safely clean hands, face, body and hair.