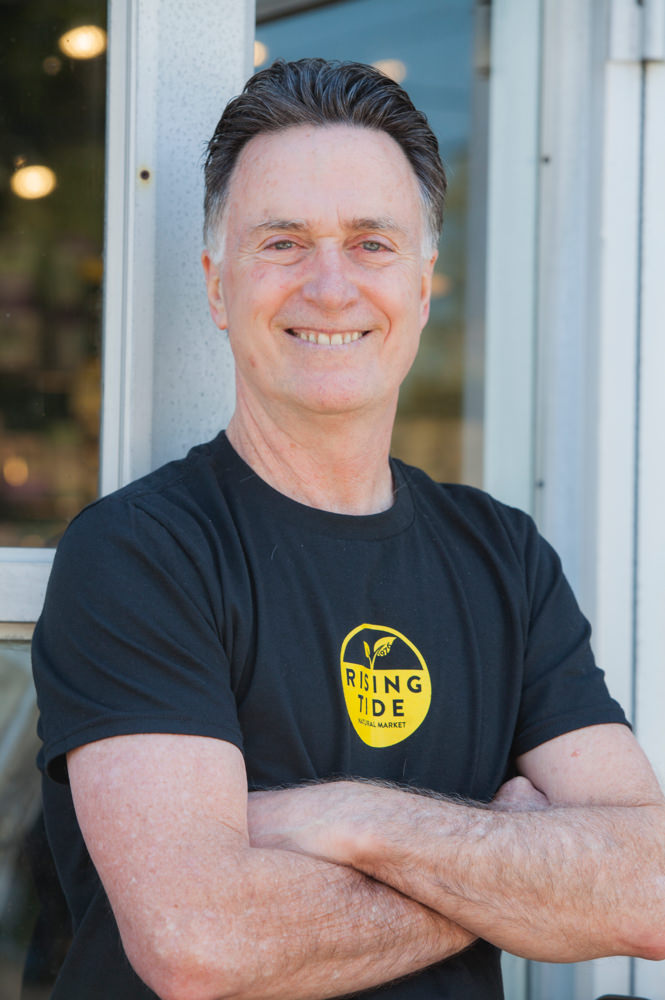 "Our approach to community and customer service has been the same since the beginning. It has always been about providing customers a shopping experience where they can get their individual needs met. We pride ourselves in providing not only the product, but the information that goes along with it. We've always hired people who understand how to treat people, and understand that education is an important part of what we do. People have so many choices, and we can help make sense of them."
-Jerry Farrell, Owner and Founder
Jerry's Story
Rising Tide, Back in the Day
In 1976, my good friend Mike Melia, his wife Melanie and I were living in Bayville learning about Macrobiotics, a diet, and way of life popular among counterculture enthusiasts. We would make weekly treks into Manhattan to purchase whole grains, beans, seaweed, and miso in bulk because there were no places on Long Island to buy these essential foods. The typical "health food store" at that time sold mostly vitamins and a limited number of packaged foods.
We were spreading the word through cooking classes and group dinners and when we saw that a small deli had closed in Locust Valley, we decided to open our own business. The rent was $ 250 per month and had a refrigerator and walk-in cooler so it was perfect. Our name comes from a line in the song Uncle John's Band by the Grateful Dead ("Got some things to talk about, here beside the Rising Tide").
From the beginning, it was a community effort.  The classes and dinners supported the store and we soon became a gathering spot for people seeking a healthier way of eating.  During those early years, we were setting the trends on LI by being the first to sell tofu (from a Japanese maker in Long Island City) and later, Organic produce (buying an air-freighted container from California).  At The NO Nukes rally to demonstrate our opposition to the Shoreham Nuclear facility, we made 1,000 tofu spread sandwiches, sold them for $1.00 apiece, and donated half the proceeds.
In 1983, Rising Tide was ready to take the next step and move into what we felt was a "huge" store in Glen Cove.  How would we raise the money for such a move?  Our customers, of course!  For $1,000 we gave them a store account for $1,100.  That gave us half the money we needed. Our customers have always felt that this was their store and this is a feeling that still exists today.
In the mid-1990s, the supermarkets and a natural supermarket (Fresh Fields, later Whole Foods) became competitors and we were challenged to compete.  Fortunately, we discovered that a small store can compete with the big guys by providing exceptional customer care, quality natural and organic products, and accurate information in an ever-evolving world (remember when soy was good for you?).
Rising Tide Today
As the sole owner, I decided to undergo a store renovation in 2013.  First, it was just a new floor but upon urging from Architect Evan Yan and general manager Ashley Pichon, a total store overhaul ensued.  The new logo, lighting, layout, refrigeration, uniforms (a first), storefront, and checkout.
One thing that hasn't changed is our commitment to our mission: " TO SERVE AND NOURISH OUR COMMUNITY THROUGH THE PRODUCTS WE SELL AND THE KNOWLEDGE WE SHARE."