All your favorite organic kitchen staples at great prices
SAVE MONEY * BUY ONLY WHAT YOU NEEED * TRY SOMETHING NEW & HEALTHY
At Rising Tide Market, we know the more you focus on purchasing local, organic, unprocessed food and preparing meals at home, the healthier and tastier your meals will be, the better you'll feel, and the more money you'll save.
Enter the Bulk Section
Affordable dried goods (much cheaper without all that pricey packaging!) are one way to reduce food expenses while still enjoying tasty, nutritious meals. When you shop bulk, you can try a small amount of some healthy item you've never used before; it may just become something you can't live without! With a little planning and effort, it's possible to enjoy healthy, varied food on the cheap.
We are so committed to BULK PRODUCTS that we recently revamped our entire bulk section. While our section is compact, it is carefully curated (and reviewed each quarter) to offer both customer-requested items and newer, exciting products we know you'll love. Here's the scoop on the Rising Tide Bulk Section.
Bulk Section Highlights
Nut Butters: Packaged organic nut butters are everyone's Bulk favorite. We've got Hazelnut Butter and Cashew Butter, in addition to the freshly ground organic Peanut Butter and Roasted Almond Butter machines. Try them all; these protein-rich butters will make you swoon.
Dried Organic Mango Slices: Packed with Vitamin C, these chewy, tangy/sweet marvels are wildly popular (we knew our customers had great taste!).
Organic High Antioxidant Trail Mix: The perfect high-protein, disease-fighting snack for when you're on the go: Thompson raisins, roasted salted pumpkin seeds, almonds, walnuts, goji berries, sweetened dried cranberries and mulberries.
Superfoods
Many of the top Superfoods are represented in Bulk, so you can save money and buy just the amount you need. (Note: this is the best way to bulk up your smoothie…start the morning with a nutrition-packed breakfast that will set the course for a power day.)
Organic Hemp Seeds
Organic Chia Seeds
Raw, Organic Cacao Nibs
Organic Goji Berries
Pantry Staples
In addition to all the new items, we always feature essential pantry staples our customers know and love:
Organic Lentils
Organic Chickpeas
Organic Rice
Organic Quinoa
Organic Oats
Organic Nuts
Equal Exchange Coffee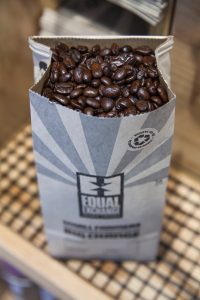 As coffee zealots, we're delighted to welcome Equal Exchange coffees to the Rising Tide Bulk Section.
At Equal Exchange, one of the largest worker-owned cooperative in the nation, longstanding relationships with coffee co-ops allow them to source the absolute best beans from each harvest. Then their talented team of roasters develops the beans to their full flavor potential.
The result? Certified Organic, Fair Trade, whole bean coffees that span the spectrum, with the ideal brew for every coffee lover:
Love Buzz: A dark, smoky favorite with sweet layers of chocolate brownie, caramel corn, malt and toffee.
Breakfast Blend Medium: A classic blend, sweet and balanced with a creamy mouthfeel and hints of chocolate brownie, roasted nut and caramel.
Midnight Sun: This dark coffee lover's dream tastes just like the perfectly burnt, crispy edges on a pan of fresh baked brownies. Makes the perfect companion for a sweet dessert course.
Mexican Vienna Roast: Creamy and mellow with layers of smoky sweetness punctuated by dark chocolate and orange flavors.
French Roast: A darker roast with low acidity and a dense mouthfeel, like chocolate fudge. Expect notes of cherry tobacco, smoke, and dark chocolate, with a quick finish.
French Roast Decaf: A dark decaf blend that's bold yet balanced, with creamy malted chocolate and a bittersweet finish.