Valued ties with local vendors result in the finest dairy and fermented items
Local farms featuring pastured, organically raised animals are the hallmarks of our ample DAIRY department at Rising Tide. This is one place where deep connections to local farms really pays off, in terms of the amazing freshness, the superb quality and the wide variety of the products we offer.
Milk
Our glass milk from Pennsylvania's Trickling Springs Creamery is our top seller.
Clearly, our customers have great taste!  This milk is the best of the best; certified organic, and created in small batches from local, family farms that take the best care of their happy, exclusively grass-fed cows and their land. These happy cows get all the sunshine and free grass they want during growing season and are not pushed in growth or production by synthetic hormones. Choose from Whole, 2%, Heavy Cream, Half & Half, and Chocolate. We also carry a wide selection of fresh, delicious non-dairy milks:
Coconut, Almond, Rice, Cashew, Hemp, Flax.
Yogurt
Our yogurt selection is as varied as our milk, and again, centered around local farmers and organic products. We have something for everyone—cow's milk, goat's milk, sheep's milk and even dairy-free. Some of the local farms that give us our most popular yogurts include: Maple Hill Creamery (Stuyvesant, NY), Kalypso Yogurt (Huntington, NY) and Old Chatham Sheepherding Company (Old Chatam, NY). Our most popular dairy-free yogurts include the delicious "Cashewgurt" from Forager Project, and creamy almond milk yogurt from Kite Hill.
Specialty Cheese
Cheese lovers find a home here at Rising Tide, as we make it a point to carry varieties you won't find anywhere else in the area. And unlike other grocery stores, you'll never get tired of our cheese selection; expect to find 4 or 5 interesting new selections each month.
Again, this is where our relationships with local farms give us access to really great cheese, many of which come from single herd farms (you can easily trace a direct line from their cows to their milk to the cheese). This is the way things were done 1,000s of years ago, a lost art that we are thrilled to resurrect in the dairy department of Rising Tide.
Local, Pastured Eggs
Pick your own eggs, freshly delivered each week from Hidden Camp Farms, a local upstate New York farm. At Hidden Camp, the happy hens are free to forage in the fields, scratch in the dirt, and nestle themselves in the shade on sunny days. Their diets are supplemented with Certified Organic minerals and grains that never, ever contain soy.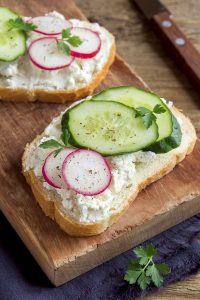 Artisanal Vegan Items
It has always been our belief that our vegetarian and vegan friends should have access to as many decadent and delicious foods as their meat-loving cohorts. For this reason, Rising Tide Market sources the finest artisanal Vegan cheeses and other dairy-style items for our Dairy department. Some of the names we are proudest of include Kite Hill, Miyokos Creamery, Field Roast and Treeline Treenut Cheese.
In addition to our Dairy department, be sure to check our freezer section for our wide selection of frozen vegan items.
Fermented Foods
At Rising Tide, we understand the importance of feeding your microbiome through fermented foods. Let Rising Tide Market be your primary source of small-batch, often local, always probiotic-rich foods and beverages. Your gut will thank you!  A carefully curated selection of krauts, kimchi and pickles come from such local artisanal fermentation pros like Real Pickles, Ozuke and Hawthorne Valley Farm.
Probiotic drinks include Kefir (dairy and coconut milk-based) from Green Valley Organics and others, Gut Shots from Farmhouse Culture and Kombucha on tap from Vermont's own Aqua Vitea.